Now with iCopyBot iPod to Computer Transfer v6.1.1 or later, you can export playlist on your iPad, iPod or iPhone to M3U or M3U8 file directly.
What is M3U and M3U8?
M3U is a computer file format that stores multimedia playlists. It supported by many multimedia applications. M3U8 is unicode version of M3U.
How to export iPad, iPod, iPhone playlist to M3U or M3U8?
First, please download and install iCopyBot from our iPod software download page, launch iCopyBot and connect your iPad, iPod or iPhone to computer, check the playlists and its songs that you want to export, then press Copy to Folder button. The program will show you an export option window, you can change target folder and target folder structure, file naming rule here, then check Export playlist as .M3U playlist file option and press OK button to start export process. If you want export to M3U8 format, please also check Use unicode version of M3U (.M3U8) option.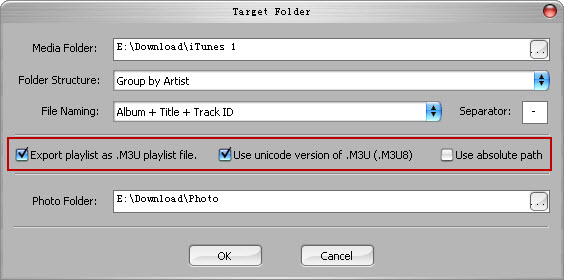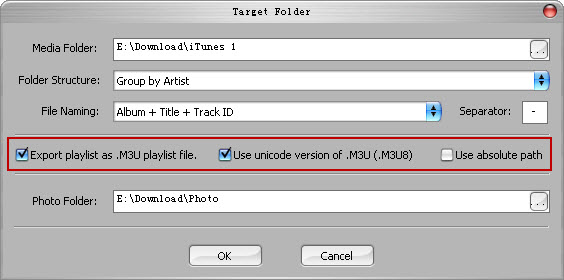 By default, the M3U file is placed in the same folder as the multimedia file, and directories must be preserved when moving the m3u file to another device if sub-folders are used. This method is more compatible as it doesn't rely on the file path staying the same.  If you want move m3u file freely and leave multimedia file in a fixed place, you can check the Use absolute path option to make it store absolute path of multimedia file into m3u file.
Other new feature in iCopyBot v 6.1.1
Now you can select a new folder structure: Group by Playlist, the program will create a folder for each playlist on your iPad, iPod or iPhone and store the songs, videos in the playlist to this folder.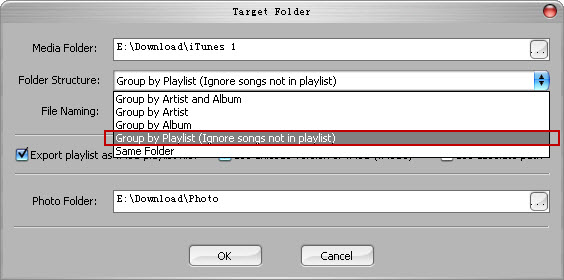 iCopyBot v6.1.1 also fixed a bug when deal with duplicated files automatically.
Special thanks to Marc van de Laar, thanks for your great suggestions!
Tags: Export iPod Playlist