Home - Frequently Asked Questions - Access authority problem when transfer from iPod to iTunes

If you working on Windows Vista system with UAC enabled, you may got "can not create destination folder" error when transfer from iPod to iTunes.
The most simple way to resolve this problem is set iCopyBot Music Transfer start in Administrator Mode:

All shortcuts in Windows Vista have a special property that you can set that will allow the application to run as Administrator.
To set this property, just right-click on any iCopyBot Music Transfer's shortcut, and click the Advanced button on the Shortcut page:





You'll see a Advanced Properties dialog with a checkbox for Run as administrator: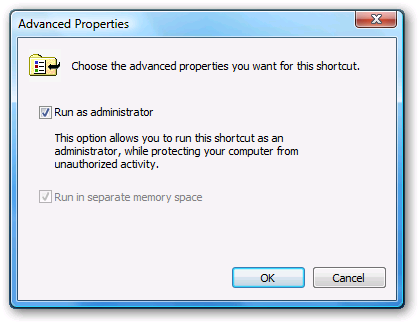 From now on, iCopyBot Music Transfer will always run as administrator if you use the shortcut to launch it.